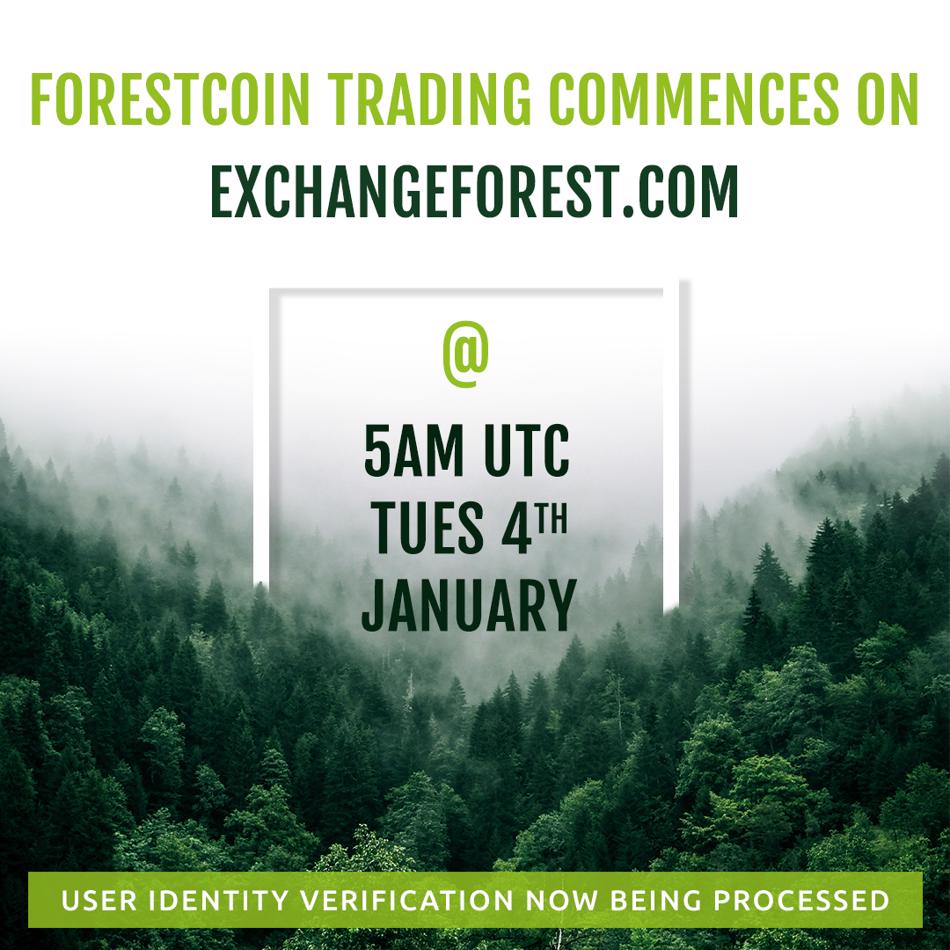 Forestcoin trading to commence on exchangeforest.com at 5:00 am UTC Tuesday, 4 January 2022 | KYC now being processed
We will be unlocking user wallets and commencing Forestcoin trading at 5:00 am UTC Tuesday, 4 January 2022. This translates to:
Los Angeles Mon 9:00 pm

New York Tue 12:00 midnight

London Tue 5:00 am

Stockholm Tue 6:00 am

New Delhi Tue 10:30 am

Singapore Tue 1:00 pm

Sydney Tue 4:00 pm

Auckland Tue 6:00 pm
Please convert to your own time zone here
At the above time,
Blockchain wallets will be unlocked, allowing users to transfer FC to their exchangeforest.com account, and

Trading between FC/USDT will commence on www.exchangeforest.com
Forestcoin has moved operations to New Zealand. The Forestcoin Cryptocurrency (forestcoin.earth) and the Exchange Forest Cryptocurrency Exchange (exchangeforest.com) is operated by Forestcoin Limited (NZBN: 9429048985116) which is registered as a Finance Service Provider (FSP1001682) supervised by the New Zealand Department of Internal Affairs (DIA).
Many great things come from this wonderous country at the bottom of the Earth, including,
New Zealand was the first country to give women the right to vote

New Zealand was the first country in the world to give a river the status of being a legal person. The Whanganui river can now be represented in court and has two guardians appointed to speak on its behalf.

in 2019, New Zealand enshrined a zero emissions goal into law, well before any other country did so, and government agencies have been committed to carbon neutrality by 2025!
For us, and for the Forestcoin business mission to plant a tree for every person on the planet and put tree planting at the center of currency creation… calling New Zealand home "feels right".
Forestcoin user identity verification is now being processed. Please update your Forestcoin app from the App Store or Google Play, and navigate to Settings > User Identity Verification, or log in to the website at forestcoin.earth or exchangeforest.com and get verified. After your identity has been verified, you can deposit USDT into exchangeforest.com in preparation for trading to start. Please note, we are supporting USDT-TRC-20 for lower deposit and withdrawal network fees. Additional trading pairs will be added over the coming weeks.
www.exchangeforest.com is on the live servers now. You can log in using your Forestcoin login email and password and have a look around. We would love to know what you think, so please contact us via any of our social media accounts.
Thank you everyone for your patience. We know that we have taken a long time to get Forestcoin live, (actually, it has been just over 4 years). We have built a large number of systems that will be revealed at launch
We would like to take a moment to thank a few vendors for their assistance to date
Most importantly, we would like to thank our awesome Forestcoin community for planting trees to earn FC. So far, we have trees planted in 21 countries, and at 5:00 am UTC Tuesday, 4 January 2022, the users that have planted trees to earn FC will be able to transfer their FC from their blockchain wallet to their www.exchangeforest.com account, and sell.
At the precise moment, when the first FC is traded, we will have put tree planting at the center of currency creation, which is perhaps the most profound event that has happened in the history of finance, and is the exact thing that this planet that we share needs right now.
We are hopeful that Forestcoin will be the cryptocurrency that wins the hearts and minds of millions of people around the world who are concerned about climate change.
Let's do this!
Best regards from the Forestcoin Team.
Required regulatory statement: Forestcoin Limited is registered on the New Zealand Financial Service Providers Register and is subject to, and complies with, all applicable New Zealand laws. Forestcoin Limited is not licensed by a New Zealand regulator to provide the issuing or managing the means of payment service or the operating a money or value transfer service and is not required to be licensed. Forestcoin Limited's registration on the New Zealand register of financial service providers does not mean that Forestcoin Limited is subject to active regulation or oversight by a New Zealand regulator. Forestcoin Limited does not have a place of business in New Zealand. It may be more difficult for a New Zealand regulator or a New Zealand-approved dispute resolution scheme to help a person to resolve a complaint about the service. A New Zealand regulator is unlikely to be able to help customers outside of New Zealand to resolve a complaint about the service.

Dec 31, 2021